Key concepts of the Arts Marketing & Engagement Kit
Learn how to successfully engage your supporters on an ongoing basis and make more sustainable income with your art. Find out how to apply the following key concepts:
Create a diverse set of offerings
Engage with your fans and supporters all year round
Spread the word about your work across social networks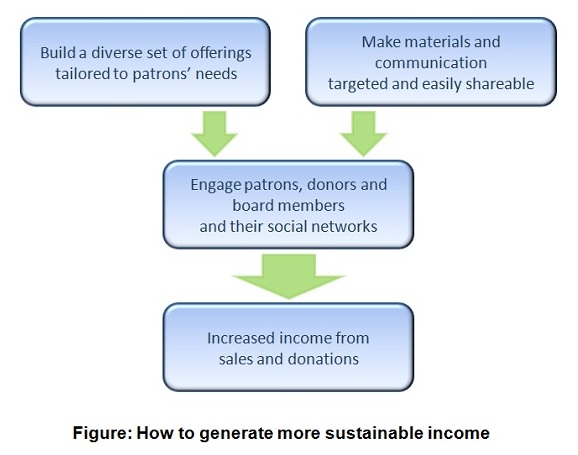 Build a diverse portfolio with a range of offerings that take into account your patrons' interests and needs. This approach creates more opportunities for interacting with your fans, and turning them into paying customers of your work and your artistic services. Consider offering tailor-made experiences that you craft around individual buyers' preferences, like a performance or exhibition in their own home or at a conference, combined with an introductory speech and possibly a short Q&A session.
Your outreach messages should be driven by a specific objective and be tailored to the recipients. Use language and images that are meaningful to your audience, and tell people clearly what you would like them to do in response. Design your marketing materials and communication to be easily shareable online, making extensive use of social media, your website, and emails.
Engage closely with your fans, patrons, donors, advisory board and board members on an ongoing basis. Stay in touch with them beyond your main events, and nurture their sense of affiliation – by providing regular insightful communication about your work, as well as a set of offerings that allows them to connect with you throughout the year.
Encourage your patrons and supporters to spread the word about you and your offerings through their own social networks. The power of networks allows you to get your art in front of a much larger number of people, which will help increase your income from purchases and donations.
The Arts Marketing & Engagement Kit has been created by strategy and marketing firm Orcasci and made possible by support from GoSeeDoArts, an audience engagement and booking platform for the arts, and a grant from The Rockefeller Foundation's NYC Cultural Innovation Fund. It incorporates Orcasci's unique methodology called The Science of Spread™, which is based on behavioral and network science, and applies it to the arts.
Table of Contents